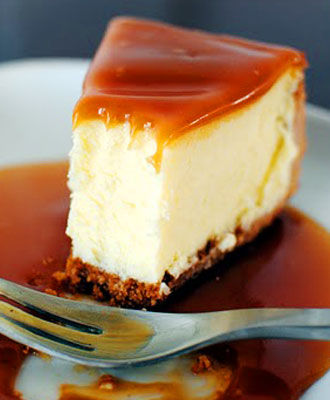 Ingredients:
Method:
For the Crust
180g digestives
7tbsp unsalted butter
½ tsp salt
For the Filling
225g white chocolate, chopped
120ml double cream
340g white chocolate, chopped into little chunks
3 x 225g packs of cream cheese3 x 225g packs of cream cheese
250g granulated sugar (1 1/4 cup)
5 eggs, beaten
1tsp vanilla extract
pinch salt
For the Caramel
300g granulated sugar (1 1/2 cup)
570ml double cream
4tbsp unsalted butter
Method:
1. Preheat the oven to 190C/375F/mark 5.
2. For the crust, crush the biscuits to fine crumbs and mix in the salt and butter. Press into a 10 inch spring form pan, covering the base and an inch and a half up the sides. Bake for 10 minutes and allow to cool. Lower the oven temperature to 170C/325F/mark 3.

3. For the filling, place the chocolate into a heat proof bowl and bring the double cream to a simmer in a small saucepan. Pour the hot cream over the chocolate and leave for a minute before stirring until the ganache is smooth. Leave to cool.

4. Lightly beat the cream cheese in a large mixing bowl to soften. Add in the sugar and mix to combine. Gradually beat in the beaten eggs, roughly one egg at a time. Fold in the ganache (once cool), vanilla extract and salt.

5. Pour the filling into the pan with the crust. Cover the pan with two sheets of foil and place the pan into a fairly deep roasting pan. Pour boiling water into the roasting pan, about 1 inch deep (it must not exceed the height of the foil. Bake for 60 minutes, reduce the oven to 160C/300F/mark 2 and leave to bake for a further 60-90 minutes, until the centre has just set. Allow to cool completely before covering, refrigerating and leaving for at least 8 hours before serving with the caramel.

6. For the caramel, gently heat the sugar over a medium heat in a heavy based saucepan whilst stirring with a wooden spoon. Once the sugar has melted, gently shake the pan, continuing to cook the sugar until it turns light-medium amber in colour. Be careful not to overcook. Take the pan off the heat and carefully whisk in the cream. If any of the caramel solidifies, heat until it melts. Return to the heat and allow to boil for 5 minutes. Remove from the heat and mix in the butter. Allow to cool and pour into a heatproof container/jar. Pour over the cheesecake.