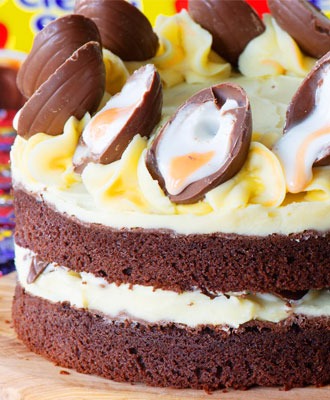 White Cake
Ingredients:
180ml (¾cup ) whole milk
135g (4-5 eggs)egg whites
2tsp vanilla extract
¼tsp almond extract
275g (2¼ cups) plain flour1tbsp baking powder½tsp salt125g (9tbsp) unsalted butter260g (1cup + 2tbsp)caster sugar
Method:
1. Butter and flour three 6 inch cake pans (or double the ingredients and use three 9 inch pans). Preheat the oven to 180◦C/350F/mark 4.
2. Mix together the milk, egg whites, vanilla extract and almond extract.
3. In a separate bowl, sift together the flour, baking powder and salt.
4. In a mixing bowl, cream the butter until pale and smooth. Add the sugar and continue to beat until light and fluffy.
5. Add one third of the flour mixture to the creamed mixture and beat until combined. Mix in one third of the milk solution until fully amalgamated. Continue beating in alternating thirds of flour and milk mixture and ensure everything has been thoroughly incorporated.
6. Divide the batter into thirds and pour into the prepared cake pans. Bake for 25-30 minutes, or until a skewer inserted into the centre of the cake comes out clean.
Buttercream
Ingredients:
100g (7tbsp) unsalted butter
200g (2 cups) icing sugar, sifted
1tsp vanilla extract
1-3tbsp milk or cream
Method:
1. Beat the butter until light and creamy. Mix in the icing sugar and continue beating until fluffy and well-mixed.
2. Mix in the vanilla extract and as much milk or cream as required for an ideal spreading consistency.
Milk Chocolate Ganache
Ingredients:
200g milk chocolate
100ml double cream
Method:
1. Break the chocolate into pieces into a bowl.
2. Bring the cream to a simmer in a small saucepan and pour over the chocolate. Leave for a minute before stirring until the ganache is homogenous. Leave to cool and refrigerate, as required, to thicken before use.