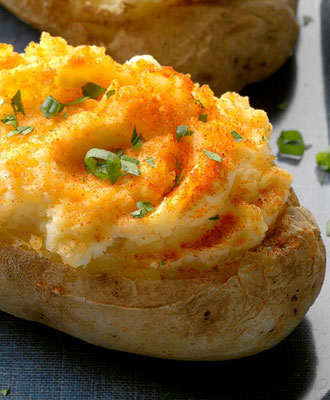 6 medium potatoes, scrubbed clean, I like Yukon Gold
1 cup milk, half and half, or evaporated milk
1/2 stick butter
2 cloves garlic
1 tablespoon oil
1/2 teaspoon salt
1/2 teaspoon ground black pepper
1/2 teaspoon garlic powder
1/2 teaspoon paprika
Salt, pepper
2 cups shredded cheese, Colby Jack, Pepper Jack etc
Optional:
Chives, chopped
Green onions, chopped
Crumbled crispy bacon
To cook the potatoes in the Instant Pot place them on a steaming rack with 1 cup of water underneath. Place the potatoes on the rack and cook them on HIGH PRESSURE for 18 minutes, let the pot naturally release pressure for 10 minutes.
Alternatively you can bake the potatoes in an oven at 375 degrees F for about an hour.
Heat butter and add two cloves of garlic. Heat until fragrant.
Add milk to the butter pot and heat until small bubbles form at the rim of the pot. Set aside.
Mix salt, ground black pepper, garlic powder, and paprika in a small bowl. Set aside.
Slice the potatoes in half, making sure that the halves you end up with can lay stable so you can fill them.
Using a spoon or cookie scoop, scoop out the potato leaving about 1/8-1/4 inch of the potato with the skin so that the structure holds when re filling.
Turn the potato skins cut side facing down. Brush each potato skin with oil.
Sprinkle each potato skin with the salt, mixture from step 5.
Turn the potatoes over and season the insides.
Use a potato ricer or potato masher to mash the potatoes to a consistency you like.
Stir in 1/2 milk mixture, adding more until your potatoes are the consistency you like. You can discard the garlic loves or mash them into the filling.
Stir in shredded cheese and any other fillings you like such as bacon crumbles, green onions, chives, a dollop of sour cream.
Add salt and pepper to taste.
Stuff each potato skin with filling.
Bake at 375 degrees F for 20 minutes.
Top with more shredded cheese, sprinkle with chives, green onions, bacon, or sour cream.