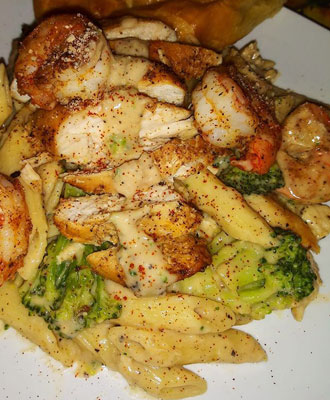 ingradient
Chicken breast(about 3).
Jumbo Shrimp. Broccoli.
Pasta of choice(I used Penne).
A can each of Campbell's Cream of Mushroom, Chicken, and Broccoli.
Chicken Stock. Seasonings for Shrimp: Old Bay, Tony's Creole Mix, Pepper.
For Chicken: S/P, Creole Mix, Onion Powder, Garlic Powder, and a little Cayenne Pepper.
Direction
Cook pasta.Sautee shrimp in butter and a little Canola oil, set aside.
Place chicken in the same large skillet with a little more butter,
sear on both sides,
add some chicken stock,
reduce heat and cover until done, cut up 2 into chunks,
set aside. In the same pan add in all 3 cream soups, I use chicken stock and a lil cream to thin out the sauce to my consistency preference.
Add it in broccoli(I was lazy and used a steamable bag), chicken, and shrimp, and mix together. I used the third chicken breast and some shrimp to garnish the top, along with parmesean cheese and paprika.