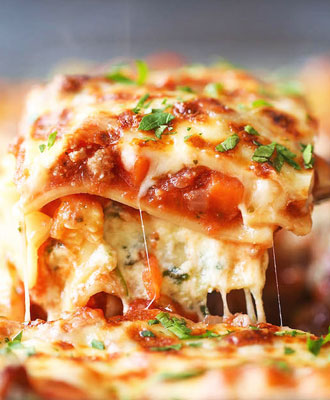 Ingredients
Cooking spray
1 pound ground turkey breast
1/4 teaspoon crushed red pepper flakes
1 1/2 cups chopped onion
2 garlic cloves, chopped
2 (26-ounce) jars low-fat marinara sauce (or equivalent homemade)
1 (16-ounce) carton fat-free ricotta
1/4 cup egg substitute
1/4 cup (1 ounce) preshredded fresh Parmesan cheese
1 tablespoon dried parsley flakes
1/4 teaspoon black pepper
1 teaspoon garlic powder
1 teaspoon oregano
1 (10-ounce) package frozen chopped spinach, thawed and drained
8 cooked lasagna noodles or no-boil
2 cups (8 ounces) shredded part-skim mozzarella cheese
Preheat oven to 350°.
Coat a large skillet with cooking spray, and place over medium-high heat until hot. Add turkey, onion,red pepper flakes and garlic; cook until meat is browned, stirring to crumble. Add 5 3/4 cups marinara sauce; cook 5 minutes, stirring occasionally. Remove from heat.
Combine ricotta cheese, egg substitute, Parmesan, parsley, pepper, garlic powder, oregano and spinach; stir well. Spread remaining marinara sauce in bottom of a 13 x 9-inch baking dish coated with cooking spray. Arrange 4 noodles over marinara; top with cottage cheese mixture and half of the mozzarella.Spoon half of the turkey mixture over the mozzarella. Arrange the remaining noodles over turkey mixture. Top with remaining turkey mixture and mozzarella.Bake at 350° for 50 minutes or until cheese melts and sauce is bubbly. Let stand 10 minutes before serving.