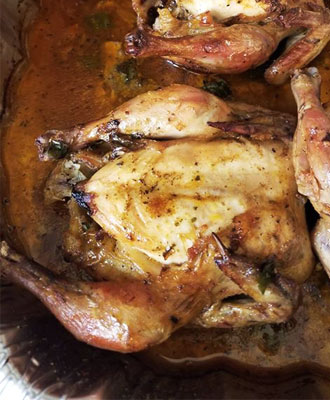 For the Chicken:
Cornish hen
Olive oil
Rotisserie Chicken seasoning
Preheat oven to 350°.
Place a wire cooling rack into a cookie baking sheet.(the kind that has sides) Spray both with non stick spray. Unwrap chickens and remove giblet pouch from the inside, rinse chickens and pat dry. Pour about a tablespoon of oil into the palm of your hand and rub over the entire chicken. Sprinkle with seasoning and place breast side down onto wire rack. Bake uncovered for about a half hour and remove from oven and turn chicken onto it's back. Return to oven and check again after another half hour for doneness. An instant read thermometer is a handy thing for this. Insert into the breast part and if it read 180° it is done. If it isn't quite done and the skin seems to be roasting too quickly spray a little bit of non stick olive oil on it and continue roasting until it is done.
For the Baked Potato Fans:
3 Russet Potatoes
2 tablespoons butter
2 tablespoons vegetable oil
salt
1 teaspoon ranch dressing mix
sour cream
Preheat oven to 395°. Spray a baking dish with non stick spray. Scrub potatoes and pat dry. Cut potatoes into ¼ inch slices but not all the way through. Place into prepared baking dish and brush with oil,butter,and ranch seasoning mixture making sure the slices get seperated and the oil mixture gets in between. Sprinkle with salt. Bake for an hour and 15 minutes or until done. Check them every 20 minutes or so and baste them with the juices. Serve with sour cream and fresh chives.