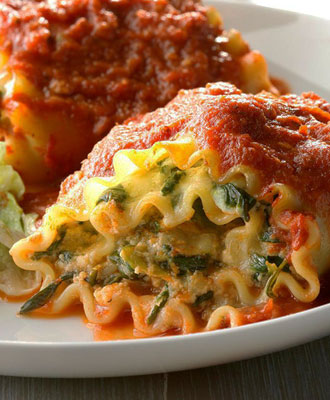 8 lasagna noodles
1/2 pound lean ground turkey
1 T olive oil1 clove garlic
1/2 onion
1 can crushed tomatoes
1 egg
1/2 cup ricotta cheese
1/4 cup grated Parmesan cheese
1 1/2 T fresh basil, chopped
1 1/2 T fresh oregano, chopped
1/4 cup shredded mozzarella cheese
1/2 tsp crushed red pepper flakes
Direction
Preheat oven to 350 degrees. Heat a large pot of water to boiling over high heat. When it reaches a boil, salt liberally and drop noodles. Stir occasionally and cook to just al dente. You want to leave them slightly more firm since you'll be baking the pasta. Drain noodles and set aside.
Meanwhile in a large skillet, heat olive oil over medium heat. Add garlic and onion and saute for 2-3 minutes. Add turkey and brown. When almost cooked through, add tomatoes and reduce heat to medium low. Simmer for about 15 minutes. Add 1/2 the basil, oregano, and crushed red pepper flakes and stir to combine.
In a small bowl, lightly beat egg. Add ricotta, Parmesan and remaining basil and oregano and stir together. Spray pan lightly with cooking spray. Add enough sauce to lightly cover the bottom of the pan. To assemble, on a drained noodle, add a spoonful of ricotta mixture. Top with a spoonful of meat sauce and roll up. Place seam side down in pan. Continue until you've used all the noodles. Top each with a little more meat sauce and sprinkle with mozzarella and remaining crushed red pepper flakes. Bake approximately 20 minutes until cheese is melted and bubbly.