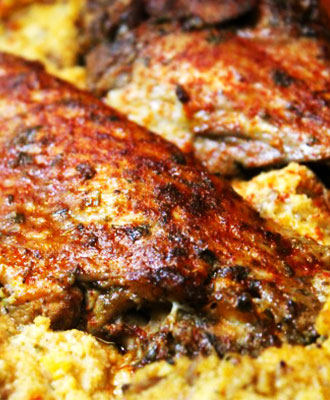 Ingredients:
6 lbs. of turkey wings and/or turkey drumettes (2 pkgs)
5 ribs of celery, cut into large dice
2 carrots, peeled and cut into large dice
1 large onion, cut into large dice
1 head of garlic, halved through the cloves.
2 tbsp. vegetable oil
Salt & pepper
1/2 cup fat from turkey drippings
1 cup flour
Salt & pepper, to taste
1. Preheat oven to 375F.
2 Place the turkey wings and/or drumettes/thighs, celery, onion and garlic in a roasting pan. Season with a little salt and pepper and toss with 2 tbsp. vegetable oil.
3. Place the pan in the oven and roast 3-4 hours, turning the wings over occasionally, or until well browned. Add 12 cups of water to the pan. Continue roasting another 1 hour.
3. Add another 8 cups of water to the pan and cook in the oven for another hour. Stock should be reduced to around 10 cups.
4. Let stock cool in the roasting pan and pour everything into a smaller pot that will fit in the frig. Cover and keep in frig overnight to let flavors develop.
5. Remove stock from the frig and let come to room temperature. Strain stock and set aside. Add 1/2 cup of the fat from the turkey drippings in a large pot over medium heat. Whisk in flour and cook 1-2 minutes, stirring constantly.
6. Gradually add strained stock, whisking until smooth. Bring gravy to a boil and simmer 2 minutes to thicken. Reduce heat to medium low and simmer 10 minutes.
7. Finish gravy with 1 tsp. salt and 1/4 tsp. black pepper, or to taste.