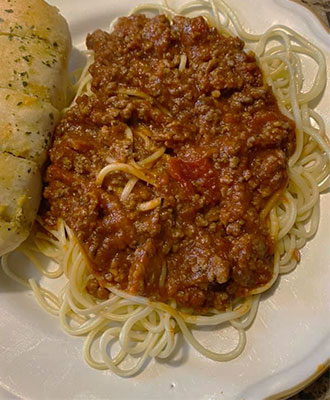 1 lb.low fat ground meat (I used low fat ground turkey or chicken)
1/2 small onions minced
3 cloves garlic minced
1/2 can of tomato paste
2- 14.5 oz tomato sauce
1- bay leaf
1- 8 oz sliced mushrooms
1- sweet red bell pepper, diced
1/4 c. sugar
1T. dried Italian herbs mix
salt and pepper to taste,grated cheese,parmesan cheese
1- box of spaghetti (follow direction on the box) cooked
1. Brown ground meat until no longer pink,add onions,garlic until fragrant, drain the fat.
2. Add sliced mushrooms saute it for about 2minutes(you want to drain the cooked meat before adding the mushrooms because the mushrooms will absorb most of the oil)add the paste ,tomato sauce and the rest of the ingredients. Cover and simmer in a low heat for 30-45 minutes. Taste the sauce and adjust your seasoning.
3. Cook your favorite pasta. I myself just add a pinch of salt in a boiling water then add my spaghetti noodles and cook it until al dente texture(firm but not hard) not mushy about 7 minutes only, I dont add oil so the sauce adhere with the cooked noodles.
Garlic Bread
1-sturdy bread -french, Italian bread (I used a markdown Artisan Italian Bread )sliced
3- cloves garlic minced
1/2 stick butter or margarine
1t. Italian seasoning herbs
1.melt butter and add garlic until light brown set aside to infuse the garlic flavor.
2.preheat a skillet to medium heat
3. brush bread with melted butter and garlic and add italian herbs and optional shredded cheese and grill for about 3 minutes on each side.