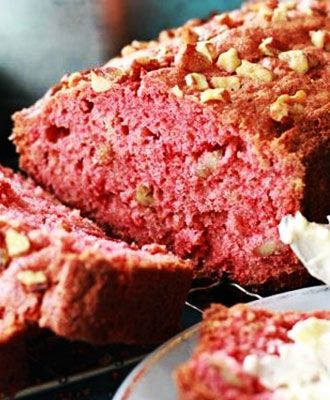 ingradient
1 and 1/2 cups All-Purpose flour (I used unbleached)
2 Tbsp. whole ground flax-seed meal
1 cup sugar
1/2 tsp. baking soda
1/4 tsp. baking powder
Scant 1/2 tsp. salt (I used kosher)
A pinch of nutmeg (I used whole nutmeg)
1/4 tsp. lemon oil
2 eggs, large
3/4 cup mashed ripe strawberries
1/2 mashed ripe banana
1/2 cup vegetable oil (I used canola
1 to 2 Tbsp. of sanding sugar (or granulated sugar)
DIRECTIONS
Whisk together the flour, flax-seed meal, sugar, baking soda, baking powder, salt, and nutmeg in a large bowl.
In a medium bowl, mix together the eggs, lemon oil, mashed strawberries and banana, and oil.
Add the liquid ingredients to the dry ingredients, and fold with a spatula only until all the batter is just moistened.
Pour the batter into the prepared pan and sprinkle the top with several pinches of sanding sugar, or granulated sugar. Bake the loaf for about 40 minutes, until golden brown and a toothpick inserted in the center comes out mostly clean. Check the bread about 20 minutes into the baking time. If the bread appears to be browning too quickly, cover it lightly with foil.
Let the baked loaf cool in its pan, on a rack, for 15 minutes. Remove it from the pan and let it finish cooling on the rack,