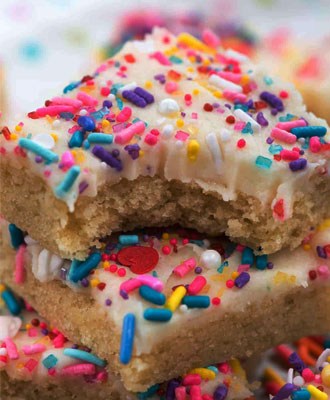 Sugar Cookie Bars
5 cups all-purpose flour
1 teaspoon baking powder
3/4 teaspoon salt
1 cup butter, softened
2 cups granulated sugar
2 large eggs 3 heaping Tablespoon sour cream
2 teaspoon vanilla extract
In a large bowl or bowl of your mixer, Cream the butter and sugar together until light and fluffy. Add the eggs and vanilla and mix well. Add the sour cream and mix. Then add the flour, baking powder and salt and mix until well combined. Press the dough into a large(half sheet) greased, or parchment lined, cookie sheet. You may need to grease your finger with cooking spray to press it all in the pan. I did. Bake in a 325 degree oven for 17-20 minutes or until the very edges start to turn a light brown. DO NOT OVERBAKE. IT IS BETTER TO HAVE THEM A LITTLE UNDERCOOKED THAN OVERCOOKED. Mine were barely light brown on the very edge when I pulled them out. All ovens cook differently so watch carefully. Take out and cool completely. Frost with your favorite frosting. Mine is cream cheese but use whatever kind you like.
Cream Cheese Frosting
2(8 oz) cream cheese softened
1 stick butter, softened
4-5 cups powdered sugar
2 tsp vanilla
Cream the cream cheese and butter until well combined. Add the sugar in a cup at a time, mix well. Add the vanilla and food coloring if desired. Frost the cookie bars. You may not use all of the frosting depending on if you like a lot of frosting or not.