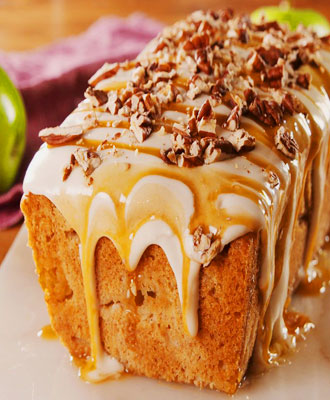 Caramel Apple Cake adapted from Your Home Based mom
3 eggs
2 cups sugar
3/4 cup butter, melted
3/4 cup oil
1T. vanilla
3 cups cake flour(I used regular all purpose flour and it worked great)
1 tsp salt
1 tsp baking soda
3-4 cups peeled chopped apples (i used about 4 cups about 4 apples)
1/2 -1 cup pecans(optional)
1(3.4oz) box instant vanilla pudding mix or pumpkin spice pudding mix(if you can find it)
Preheat oven to 350. Grease a bundt cake pan well. Set aside. Beat eggs and sugar till foamy. Add the butter, oil, and vanilla and mix well. Add the pudding mix and mix well. Mix in flour, soda, and salt till combined. Stir in the apples and pecans. Your batter will be pretty thick. Don't be alarmed as the apples cook they add moisture to the cake. Bake for 50-60 minutes or until a toothpick inserted in the center comes out clean. Take out of oven and turn over onto a platter and let cool 10 minutes before taking the pan off the cake.
Caramel Sauce(I doubled this because I like a lot of caramel)
1/2 cup butter
1/4 cup milk
1 cup brown sugar
In a medium saucepan, bring all ingredients to a boil and boil for 3 minutes, stirring constantly. Pole holes in the cake with a bamboo skewer and then pour the caramel over the top of the cake. Eat nice and warm or let cool a little bit before serving. I think it taste great both ways.