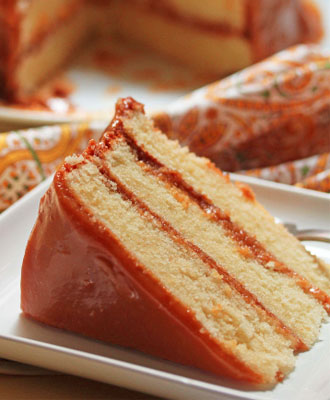 Cake
1/2 cup buttermilk, room temperature
4 large eggs, room temperature
2 tsp vanilla extract
2 1/4 cups (11/4 ounces) unbleached all-purpose flour
1 1/2 c ups (10 1/2 ounces granulated sugar
1 1/2 tsp baking powder
1/2 tsp baking soda
3/4 tsp salt
16 TB ( 2 sticks) unsalted butter, cut into 16 pieces and softened
Frosting
12 TB (1 1/2 sticks) unsalted butter, cut into 12 pieces and softened
2 cups packed (14 ounces) dark brown sugar
1/2 tsp salt
1/2 cup heavy cream
1 tsp vanilla extract
2 1/2 cups (10 ounces) confectioners sugar, sifted

For The Cake:
Adjust an oven rack to the middle position ans heat the oven to 350 degrees. Grease and flour two
9- inch round cake pans. Whisk the buttermilk, eggs and vanilla in a large measuring cup. In a large bowl, mix the flour granulated sugar, baking powder, baking soda, and salt with an electric mixer on low speed until combined. Beat in the butter, 1 piece at a time, until only pea-size pieces remain. Pour in half of the buttermilk mixture and beat at medium-high speed until light and fluffy, about 1 minute. Slowly add the remaining buttermilk, mixture to the bowl and beat until incorporated, about 15 seconds.
Scrape equal amounts of batter into the prepared pans and bake until golden and a toothpick inserted in the center comes out clean, 20 to 25 minutes. cool the cake in the pans for 10 minutes, then turn out onto wire racks. Let cool completely, at least 1 hour.
For The Frosting:
Heat 8 TB of the butter, brown sugar, and salt in a large saucepan over medium heat until small bubbles appear around the perimeter of the pan, 4 to 8 minutes. whisk in the cream and cook until a ring of bubbles reappears, about 1 minute. Off the heat, whisk in the vanilla. Transfer the hot frosting mixture to a bowl and, with an electric mixer on low speed, gradually mix in the confectioners sugar until incorporated. Increase the speed to medium and beat until the frosting is pale brown and just warm, about 5 minutes. Add the remaining 4 TB butter, 1 piece at a time, and beat until light and fluffy, about 2 minutes.
To Assemble:
Place 1 cake round on a platter. spread 3/4 cup of the frosting over the cake, then top with the second
cake round. spread the remaining frosting evenly over the top and sides of the cake. Serve.