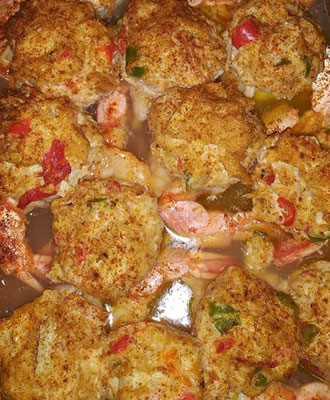 6 U-15 Shrimp
1 can (6 oz.) of baby whole shrimp and/or lump crab meat
1/2 stick butter – melted
1 sleeve Ritz crackers – crushed
1/2 cup onion – small dice
1/2 cup – to 1 cup fresh bread crumbs (Use left over baguette or Italian bread)
1/3 cup grated Parmesan cheese
2 tsp. dried parsley flakes
1/4 tsp. salt or to taste
1/2 tsp. black pepper or to taste
1/2 tsp. paprika
cooking spray
Wash and de-vein your shrimp, leaving the shell on.
In a skillet, melt the 1/2 stick butter over medium heat. Add in the onions, turn down to medium low and cook until the onions have softened. Remove from the heat and let this cool down.
Process the crackers and fresh bread crumbs ahead and put each in a SEPARATE bowl.
In a large bowl, combine the shrimp and/or lump crab meat, the spices, Parmesan cheese. Add in the onion butter mixture and then add in enough of the crackers and fresh bread crumbs as needed to fill the six shrimp. Mix well.
Stuff each shrimp liberally and press the stuffing onto the shrimp – cover all areas of the shrimp as it helps to keep the moisture in. Place the shrimp on a baking sheet that has been sprayed with cooking spray.
Bake in a preheated 350 degree oven covered for about 10-15 minutes until you "smell the shrimp". Uncover and bake for 5-10 minutes until the tops are golden brown.
The internal temperature of shrimp should be 145 degrees. After you uncover the shrimp, check the temperature to gauge cooking time.