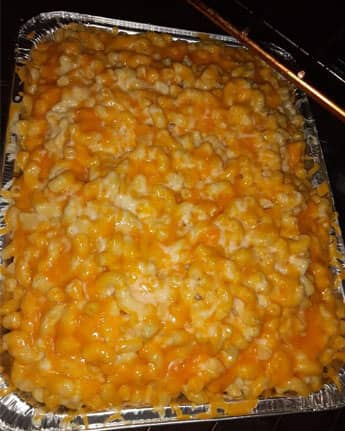 Ingredients
1 lb elbow macaroni
3 T butter
2 tsp onion powder
2 T flour
2 1/2 cup half and half
1 cup evaporated milk (not condensed milk, baby! EVAPORATED!)
4 oz cream cheese (softened)
1 cup Muenster cheese (shredded)
1 cup Sharp Cheddar (shredded)
1 cup Mozzarella (shredded)
1 T Accent seasoning (This is optional, cause I don't wanna hear nothing about MSG's!
salt and white pepper to taste
Instructions
Preheat oven to 350 degrees F
Bring a pot of water to a boil.
Add salt and 1 tsp of onion powder into the water.
Stir in the macaroni and cook until al dente. Refer to package instructions for cook time.
Drain (Do NOT rinse with water! I'm not playing!)
Stir in 1 T of butter
In a pan sauce, melt the remaining butter.
Whisk the flour into the butter for 1 minute.
Slowly for in the half and half while whisking.
Add in cream cheese and stir until it dissolves
Season to taste with salt, white pepper, 1 T Accent seasoning, and 1 tsp of onion powder.
Add in 1/2 cup of each of the shredded cheeses.
Once cheese begins to melt, turn off the heat.
Pour in the macaroni and stir to combine.
Now, pour in the evaporated milk (if you use sweetened condensed milk, I swear we gone fight!)
Taste and adjust seasoning as needed.
Pour the mixture into a buttered casserole dish.
Top with the remaining shredded cheeses evenly.
Bake, uncovered, for 25 mins or until as brown as desired.
Allow it to rest of 10 mins (or you'll burn the entire hell out of the roof of your mouth!)
Enjoy!