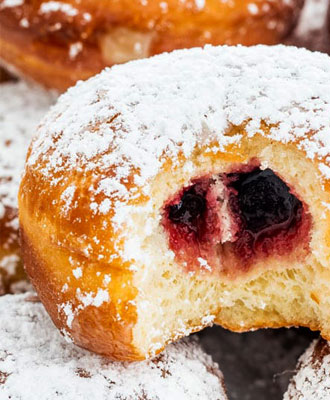 FOR THE DOUGHNUTS:
1 kg flour
100 g fresh yeast (also known as compressed yeast or cake yeast)
75 g sugar
½ liter (2 cups) milk
8 yolk eggs
100 g unsalted butter, melted
16 g vanilla sugar
50 ml rectified spirit or vodka
orange rind, grated
pinch of salt
1 liter of vegetable oil for deep -frying

FOR THE FILLING:
350 g rose hip jam mixed with 2 tablespoons rum (optional)

FOR THE ICING:
350 g icing sugar
2 tbsp lemon juice
water
candied orange peel to decorate

1. Heat 250 ml (1 cup) of the milk over low heat until slightly warm, but not hot (too hot milk will kill the yeast).
2. Crumble the yeast in a large bowl. Add the heated milk, 1 tablespoon of the sugar and 5 tablespoons of the flour. Stir to combine and dissolve. Cover with dishtowel and set aside in a warm place. Let rise until spongy.
3. Place the egg yolks, sugar, vanilla sugar, salt and 2 tbsp of slightly warm (but not hot) water in the bowl of an electric mixer and beat until fluffy and pale.
4. Add the egg mixture, the remaining milk, the alcohol, and orange rind to the yeast mixture and stir until all the ingredients are well combined.
5. Pour the liquid into the sifted flour and stir with a wooden spoon until well combined. If the mixture is too dry add more milk.
6.Knead the dough by hand for at least 20 minutes or until smooth and soft. The softer the doughnut dough, the more tender the doughnuts will be.
7. Gradually add the melted butter and continue kneading until the dough incorporates it and is no longer sticky.
8. Shape the dough into a ball. Transfer to a large bowl, cover with a dishtowel and leave in a warm place until doubled (about 1 hour).
9. Place half of the dough on a lightly floured work surface. Sprinkle the dough lightly with flour and, using a rolling pin, roll to a thickness of 1/2-inch.
10. Using a drinking glass or round cookie cutter, cut circles (approximately 3 inches in diameter).
11. Spoon about 3/4 teaspoon of the filling into the center of each circle. Raise edges of dough and pinch together over filling, then roll between palms snowball fashion to form balls.
12. Transfer the doughnuts to a parchment lined baking sheet (do not flour the baking sheet). Cover with a dishtowel, and let rise in warm place until doubled.
13. Repeat until all the dough has been used.
14. Heat the oil over medium heat in a deep heavy frying pan. Use enough oil that doughnuts can float freely (about 2,5 inches). Test the temperature by frying a small piece of dough; it should bubble and float up immediately.
15. Fry 3 doughnuts at a time. Cook on each side until golden brown, about 2-3 minutes per side. Then remove to drain on paper towels.
16. To make the icing, sift icing sugar into a bowl. Mix through 2 tablespoon lemon juice, then gradually add enough water to obtaining a mixture with a suitable consistency to spread. Spread over the doughnuts with a brush. Top each of the doughnuts with candied orange peel.