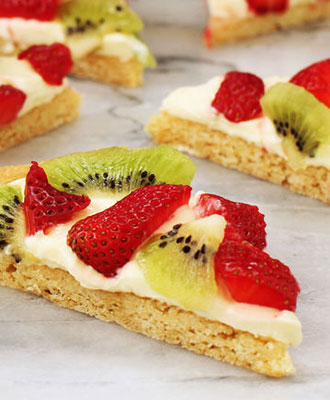 Pizza Ingredients
1 (18-ounce) package refrigerated sugar cookie dough
1/2 cup flaked sweetened coconut
Cooking spray
1 (8-ounce) block fat-free cream cheese, softened
1 tablespoon lemon juice
3/4 cup Pineapple Curd (Recipe Below)
8 large strawberries, sliced
3 kiwifruit, peeled and sliced
Prepare Pinapple Curd:
Curd Ingredients:
1/2 cup sugar
1 tablespoon cornstarch
1/8 teaspoon salt
1 cup pineapple juice
2 tablespoons fresh lemon juice
3 large eggs
2 tablespoons unsalted butter
Curd Preparation
Combine the first 3 ingredients in a medium, heavy saucepan, stirring with a whisk.
Stir in juices and eggs;
bring to a boil over medium heat, stirring constantly with a whisk. Reduce heat, and simmer 1 minute or until thick, stirring constantly. Remove from heat; add butter, stirring gently until butter melts.
Spoon mixture into a medium bowl; cool. Cover and chill for at least 6 hours or overnight (the mixture will thicken as it cools).
Pizza Preparation
Preheat oven to 350°.
Place cookie dough in a large bowl; knead in coconut until well combined.
Pat dough into a 12 x 8-inch rectangle on a baking sheet coated with cooking spray.
Bake at 350° for 18 minutes or until lightly browned. Cool completely on a wire rack.
Combine cream cheese and juice in a medium bowl, and beat with a mixer at medium speed until well blended. Spread evenly over prepared crust, leaving a 1/2-inch border.
Spread Pineapple Curd over cream cheese mixture.
Cut into squares. Arrange sliced strawberries and kiwifruit on top of the curd on each square.
Serve immediately.