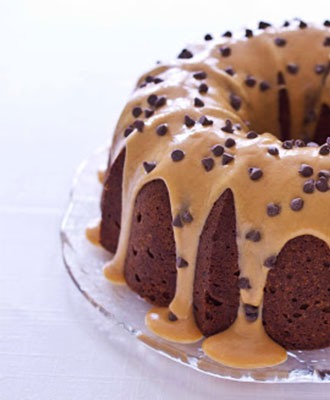 INGREDIENTS
MAKES 2 CAKES
FOR THE CAKE
2 1/4 cup all-purpose flour
1 cup best-quality unsweetened cocoa powder
1 tablespoon coarse salt
4 sticks softened unsalted butter, plus more for pans
2 cups sugar
1 teaspoon pure vanilla extract
9 large, room-temperature eggs
FOR THE TOPPING
1/4 cup chunky peanut butter
5 to 6 tablespoons whole milkHE CAKE spoons w
DIRECTIONS
Preheat oven to 325 degrees. Butter two 5-by-9-inch loaf pans. Combine all-purpose flour, unsweetened cocoa powder, and salt in a bowl.
Cream butter and sugar with a mixer on high speed until pale and fluffy, for 8 minutes. Scrape down sides of bowl. Reduce speed to medium, and add vanilla extract.
Lightly beat eggs, and add to mixer bowl in 4 additions, mixing thoroughly after each and scraping down sides.
Reduce speed to low, and add flour mixture in 4 additions, mixing until just incorporated.
Divide batter between pans.
Tap on counter to distribute; smooth tops.
Bake until a tester inserted into center of each cake comes out clean, about 65 minutes. Let cool in pans on a wire rack for 30 minutes. Remove from pans, and let cool completely on wire rack. Make peanut butter glaze: Warm peanut butter in a saucepan over medium heat. Add milk, and stir until smooth.
Drizzle over cooled cakes.
And Serve.