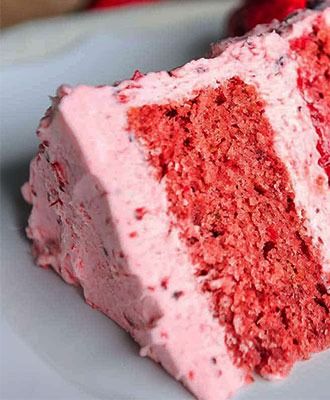 Cake
Shortening & Flour
1 package white cake mix (I prefer Duncan Hines French Vanilla)
1 small package strawberry jello (3 ounces)
4 tablespoon all purpose flour
1 cup vegetable or canola oil
½ cup sugar plus a sprinkle for strawberries
½ cup milk
4 large eggs
½ cup finely chopped fresh strawberries and juice
Buttercream Frosting
1 ½ sticks (12 tablespoons) butter
6 cups powdered sugar
¾ cup finely chopped fresh strawberries and juice
1 cup halved fresh strawberries, for garnish
Directions:
Preheat oven to 350F.
Finely chopped strawberries and place in a small bowl. You will need 1 1/4 cups divided. Add a sprinkle of sugar and stir. Set aside.
Lightly grease three 9 inch round cake pans with shortening. I use a paper towel to rub a small amount (maybe 1/2 tablespoon) of shortening on the pan. Lightly coat all sides and bottom of pan. Then sprinkle flour in the greased pans coating all sides and bottom. Shake and tap out excess flour.
Place cake mix, jello, flour, oil, sugar, milk, eggs, and strawberries with juice in large mixing bowl. Blend with electric mixer on low speed for about 1 minute. Stop mixer and scrape down the sides. Beat mix on medium for 2 minutes. Stop and scrape down the sides.
Divide the batter among 3 cake pans. Bake all three pans on the center rack for 33 – 35 minutes. Cake is done when it springs back when lightly pressed. Place pans on wire rack to cool for 10 minutes. Then run a butter knife along the sides of the cake pan to loosen the cake from the pan. Gently invert cake into hand and place on rack. Cool completely. About 30 minutes.
To prepare the frosting, place softened butter in the mixing bowl. Beat on low until fluffy (about 20 seconds). Stop the mixer. Add powdered sugar and chopped strawberries with juice. Mix on low speed until frosting is fluffy and creamy. If too thin, add a little powdered sugar. If too thick add a little milk or water.
Place one cake layer right side up on a serving platter. Spread the top with frosting. Add another layer, right side up. Frost the top. Add third layer right side up. Frost the sides then the top. Add halved strawberries for garnish. Chill the cake then serve if you can't wait. Otherwise dig in.