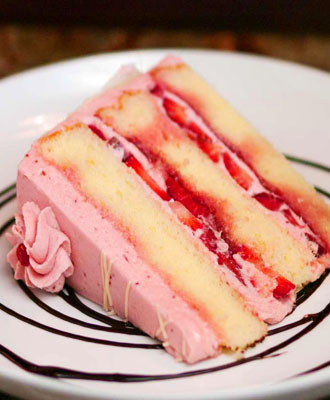 For the Crust:
1 cup all purpose flour
¼ cup brown sugar
½ cup cold unsalted butter
½ cup chopped pecans
For the Filling:
2 egg whites
1 cup granulated sugar
2 cups fresh strawberries
1 cup heavy whipping cream
1 teaspoon lemon juice
2 drops red food coloring, optional
For the crust: Cut the cold butter into the flour and sugar until crumbly, then stir in the chopped pecans. Press mixture into the bottom of a 9×13-inch baking dish and bake at 300 for 20 minutes (or press mixture into the bottom and halfway up the sides of a springform pan and bake at 325 for 25 minutes). Set the pan on a rack to cool completely before filling with strawberry chantilly. I put mine in the refrigerator to cool faster while I made the filling.
For the Filling: Pulse the strawberries in a food processor til mostly pureed but still a little lumpy. Place the pureed strawberries, the egg whites, sugar and lemon juice in a bowl of your electric stand mixer. Beat on high for ten minutes. Add food coloring, if using, and mix for a few more seconds till the color is fully incorporated.
In a different bowl, beat the heavy whipping cream until you get stiff peaks. Gently fold, by hand, the whipped cream into the strawberry meringue mixture.
Pour the filling into the baked and cooled crust and cover well. Freeze for at least 6 hours, preferably overnight.
Slice and serve frozen chantilly with additional strawberries, if desired.