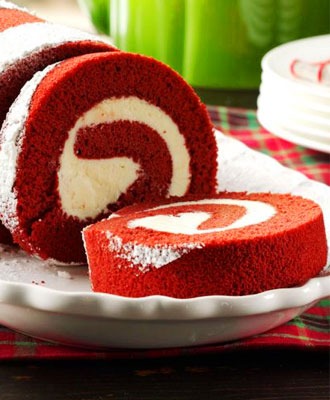 Printer friendly Version Cake:
4 eggs
3/4 cup granulated sugar
1 Tbsp. oil
2 Tbsp. buttermilk
1 tsp. vinegar
1 tsp. vanilla
1 oz. red food coloring
1/2 tsp. salt
1 tsp. baking powder
2 Tbsp. cocoa powder
3/4 cup cake flour, sifted
Filling:
8 oz. cream cheese, softened
1/4 cup butter, softened
3 cups powdered sugar
1 tsp. vanilla
Additional Powdered Sugar, to dust cake
Preheat oven to 350°F. Coat jellyroll pan (cookie sheet with sides) with cooking spray. Line with waxed paper. Coat with cooking spray.
Beat the eggs for five minutes. Slowly add granulated sugar and oil. Beat well. Add buttermilk, vinegar, vanilla and red food coloring.
Sift together dry ingredients. Add slowly to liquid ingredients. Beat two minutes, until well combined.
Pour batter into pan. Bake on middle rack for twelve to fifteen minutes, until the cake springs back when touched in center.
Sprinkle a cloth dishtowel with powdered sugar. Immediately turn cake out onto towel. Peel off waxed paper. Starting at narrow end, roll up cake and towel together. Place seam side down on rack to cool for thirty minutes.
Combine filling ingredients. Beat well. Gently unroll cooled cake. Spread filling over cake. Trim any rough edges. Re-roll the cake without the towel. Place seam side down, on cookie sheet. Dust with powdered sugar. Refrigerate.
When ready to serve, slice cake one inch thick. Serves eight.