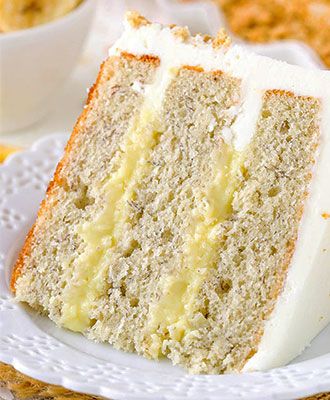 Preheat oven to 350, and place a rack in the middle.
2 and 1/3 cups of All Purpose flour (I used unbleached)
1 tsp. baking powder
1/2 tsp. baking soda
1/4 tsp. salt
3/4 cup unsalted butter, softened
2/3 cup granulated sugar
1/3 cup dark brown sugar, firmly packed (I only had light brown and used that; it was fine)
1 tsp. vanilla extract
3 large eggs
1 cup mashed banana (mashed by hand)
2/3 cup milk (I used whole)
1 tbsp. dark rum
Directions
Butter the bottom and sides of two 9″ cake pans. Line the bottom with a parchment or wax paper disk, and then butter the disk.
Combine well the flour, baking powder, baking soda, and salt in a bowl; set aside.
Combine the butter, sugars, and vanilla in the bowl of a mixer using the paddle attachment. Beat on medium speed until light in color and texture, about 3 to 4 minutes. Beat the eggs into that, one at a time, beating well after each addition.
In a separate bowl, mix together the banana, milk, and rum (if you're using it), until blended.
On low speed, in the mixer bowl, add 1/3 of the flour mixture. Stopping as needed to scrape down the beaters and bowl, add in the banana mixture alternately, beginning and ending with the flour. Then, increase the speed to medium and beat the batter nonstop for 3 minutes. Divide the batter evenly between the two pans and smooth the tops. Bake on the middle rack of your oven until the cakes are, as Chef Malgieri instructs us, "well risen and deep golden, and feel firm when pressed in the center with a fingertip, 25 to 30 minutes."
Cool the cakes on a rack, in their pans, for 5 minutes. Remove from pans and continue cooling right side up on racks; remove the parchment/wax paper.
Jane's Fluffy Light-Chocolate & Cinnamon Buttercream Frosting

This recipe makes at least enough to frost an entire cake–top, middle, and sides–or to frost 24 cupcakes.

1 cup unsalted butter, softened
3/4 cup vegetable shortening
4 oz. of cream cheese, softened to room temperature
1 cup and 2 Tbsp. heavy cream
1/2 tsp. salt
2 tsp. vanilla
2 lbs. of confectioners' sugar, sifted (approximately 8 or more cups)
1 tsp. ground cinnamon (my favorite is Penzey's brand Vietnamese Cassia; it's pretty strong)
3 Tbsp. cocoa (Dutch process or regular, whichever you prefer; I use Dutch)

In a bowl, lightly mix the cinnamon and cocoa powder into the sifted confectioner's sugar with a fork or whisk. Set aside.

In a large mixer bowl, beat the butter and shortening on medium speed until light and creamy.
Add the sugar gradually to the shortening, and continue creaming until well blended. Add in the cream cheese, salt, and the vanilla, still mixing at medium speed at this point.

Pour 6 oz. of the heavy cream slowly and gradually into the bowl. Increase the speed to high and beat until the entire mixture is light and fluffy, at least a couple of minutes. Stop every now and then to scrape the bowl and the beaters.

Reserve the remaining 2 oz. of cream to use just in case the frosting seems too thick to you, or too dry. Add it in at your own discretion. Frosting too thin? Add in a bit more confectioners' sugar. Be sure to refrigerate, or freeze, any leftover frosting.