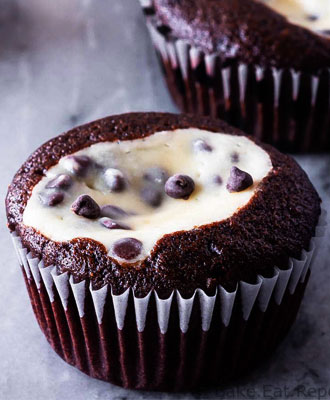 Cream Cheese Filling:
8 ounces cream cheese, room temperature
1/3 cup granulated sugar
1 large egg
1 cup semisweet chocolate chips
Chocolate Cupcakes:
2 cups all-purpose flour
1 1/3 cups brown sugar, packed
1/3 cup unsweetened cocoa powder
1 1/4 teaspoon baking soda
1/4 teaspoon salt
1 1/3 cups brewed coffee, cooled
1/2 cup canola oil
1 1/2 Tablespoons vinegar
1 1/2 teaspoons vanilla extract
For The Filling: Beat together the cream cheese, sugar and egg until smooth. Stir in the chocolate chips. Set aside.
For The Cupcakes: Preheat oven to 350 degrees F. Line muffin tins with 18 paper liners.
In a large bowl, combine the flour, brown sugar, cocoa powder, baking soda, and salt. Mix to combine then add the cooled coffee, oil, vinegar, and vanilla. Stir until just combined and no traces of flour remain but try and avoid over mixing the batter.
Divide the cocoa batter evenly between the paper liners. Then spoon about 3-4 teaspoons of the cream cheese filling into the center of the cupcake. The cups will be about 3/4 full.
Bake for 22-25 minutes, or until the tops are set and the cupcakes spring back when gently pressed.
Allow to cool for a few minutes in the baking tin before removing the cupcakes to a cooling rack.
Store in an airtight container for up to 3 days.