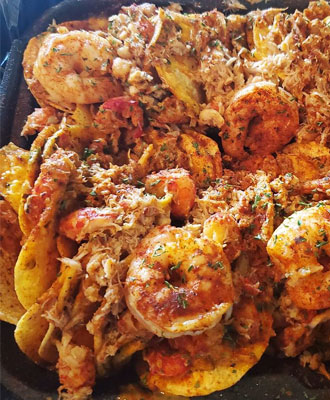 1 lb shrimp, peeled and deveined
2 T butter (for the shrimp)
Tostitos Scoops
1 lb Velveeta Queso Blanco, cubed
2 cloves garlic, minced
2-3 T chopped jalapenos
1/2 small onion, chopped
1 T garlic powder
2 T flour
3 T butter (for the sauce)
1/2 to 1 C chicken stock
2 T cilantro, chopped
2 poblanos
8 ounces Pepper Jack cheese, shredded
Roast the poblanos in a 400 degree oven, rotating occasionally, until the skin is black and charred all over. Remove from the oven. When they are cool enough to handle, peel as much of the skin off as you can. Remove the stem and seeds and chop.
To make the white nacho cheese sauce, cook the veggies in the 3 T of butter until tender. Whisk in the flour and cook about a minute. Add in 1/2 C chicken stock and whisk. Stir in the Velveeta and garlic powder. Cook and stir until the cheese is melted. If the sauce is too thick, stir in the other 1/2 C chicken stock. Remove from heat.
Cook the shrimp in the 2 T butter in a skillet until they are done, about 3-4 minutes. You can season this with a little garlic powder and salt and pepper if desired.
Preheat the broiler. Lay the chips (about 35) in a single layer on a sheet pan. Place a little of the chopped poblanos in each chip. Spoon some of the nacho cheese sauce into each chip (you will have some left over). Place a shrimp on top of each chip. Sprinkle the Pepper Jack cheese over the shrimp. Broil for a couple of minutes until the cheese is melted and browned.