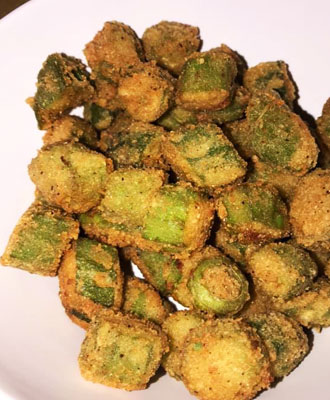 Ingredients:
4 cups fresh okra, cut into 1/2-inch rounds, stems & ends discarded
1 egg
2 tablespoons milk
1 cup cornmeal
1/2 cup flour
1 teaspoon salt
1/2 teaspoon pepper
Directions:
1. Fill a small sauce pot 2/3 full of oil. Do not exceed 2/3 or oil will bubble over during frying. Heat oil over medium high heat. Using a fry/candy thermometer, heat oil to 385ºF.
2. Wash and cut up okra put in a large mixing bowl.
3. In a small bowl beat egg with milk. Pour over the cut okra and toss until the okra is well coated.
4. In a large bowl, mix together the cornmeal, flour, salt and pepper. Add in the wet okra (try not to add in the extra egg/milk coating), and toss until the okra well coated with the dry mix. Set aside.
5. Use a large slotted spoon (NOT PLASTIC – I did and it melted!) to safely add coated okra down into the hot oil. Fry up from 1 to 2-minutes, until light to golden brown. Scoop out okra with a slotted spoon, drain on a plate lined with a paper towel.