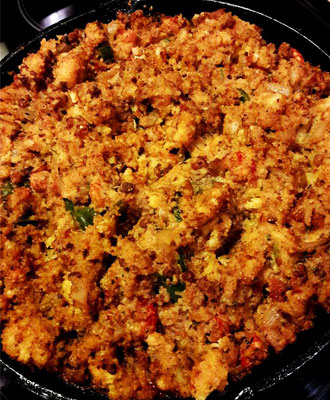 INGREDIENTS
1 cup butter or margarine, divided
3 cups white cornmeal
1 cup all-purpose flour
2 tablespoons sugar
2 teaspoons baking powder
1 1/2 teaspoons salt
1 teaspoon baking soda
7 large eggs, divided
3 cups buttermilk
4 slices sourdough bread, torn into pieces
1/4 lb. saltine crackers, crushed into small pieces
2 medium onions, diced (2 cups)
1 large bunch celery, diced (3 cups)
1/2 cup finely chopped fresh sage*
48 oz reduced sodium chicken broth
1 tablespoon pepper
1 lb mild country sausage, cooked (optional)
PREPARATION
Place 1/2 cup butter in a 13- x 9-inch pan; heat in oven at 425° for 4 minutes.
Combine cornmeal and next 5 ingredients; whisk in 3 eggs and buttermilk.
Pour hot butter into batter, stirring until blended. Pour batter into pan.
Bake at 425° for 30 minutes or until golden brown. Cool.
Crumble cornbread into a large bowl; set aside.
Melt remaining 1/2 cup butter in a large skillet over medium heat; add onions and celery, and saute until tender. Stir in sage, and saute 1 more minute.
Stir vegetables, sausage, remaining 4 eggs, chicken broth, sourdough bread pieces, cracker pieces, and pepper into cornbread mixture (There are no better tools than your hands to properly mix the dressing at this stage!); pour evenly into 2 lightly greased 13- x 9-inch baking dishes. Cover and chill 8 hours.
Bake, uncovered, at 375° for 35 to 40 minutes or until golden brown.
*1 tablespoon dried rubbed sage may be substituted for fresh sage.
Andouille Sausage, Apple, and Pecan Dressing: Brown 3/4 pound diced andouille sausage in a skillet over medium heat; drain. Add sausage; 2 Granny Smith apples, chopped; and 2 cups chopped toasted pecans to dressing. Proceed as directed, baking 40 to 45 minutes or until done.