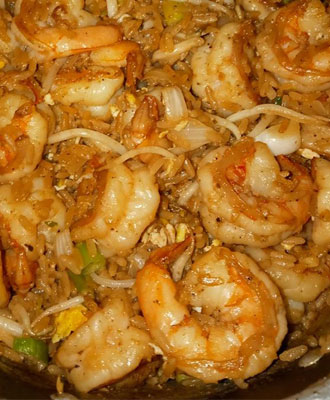 Ingredients:
1 lb. raw shrimp, peeled and deveined
1 tsp. kosher salt
Freshly ground black pepper
1 tsp. cornstarch
2 tbsp. vegetable or canola oil, divided
3 eggs, beaten
2 stalks green onions, minced (I was out of green onions and used white onions instead)
4 cups leftover rice (DO NOT USE FRESHLY COOKED RICE!)
¾ cup frozen peas and carrots, defrosted
1 tbsp. soy sauce
Few drops sesame oil
Directions:
In a medium mixing bowl, combine the shrimp, salt, pepper and cornstarch, and toss well to coat the shrimp. Let sit at room temperature for 10 minutes. Heat a large skillet or wok over high heat. When a drop of water immediately sizzles and evaporates, the pan is hot enough to add 1 tablespoon of the oil. Swirl to coat the pan well.
Add the shrimp to the hot pan and quickly spread them out so that they are in a single layer, and all touching the pan surface. (You may need to do this in two batches to ensure even cooking.) Let them cook untouched for 30 seconds, then flip over (tongs work well for this) and let cook for 30 more seconds, so that the shrimp are about 80% cooked through. Remove to a plate and set aside.
Lower the heat on the pan to medium. Add the eggs to the pan and stir quickly, to break up and scramble the eggs. When the eggs are almost cooked through but still slightly runny in the middle, remove from the pan to the same plate as the shrimp.
Use paper towels to wipe the pan clean and return the pan to high heat. Add the remaining 1 tablespoon of oil, swirling to coat. Once the oil is very hot, add the green onions to the pan and cook until fragrant, about 15 seconds. Add the rice to the pan and mix well to combine with the green onions. Spread the rice out evenly over the pan and let cook without stirring, until you hear the rice grains sizzle, about 1 to 2 minutes. Toss the rice a bit with your spatula, and again spread it out over the cooking surface.
Drizzle the soy sauce all over the rice, and toss again. Add the peas and carrots, the cooked shrimp and eggs, and the sesame oil to the pan. Toss to combine all the ingredients well with the rice. Let everything heat back up again until the rice grains are sizzling again. Add additional soy sauce to taste, if needed. Serve.
And Enjoy…!
Don't forget to share this great recipe with your Facebook friends!!
Save it for later in Pinterest:
https://www.pinterest.com/pin/827114287804849166/
Like it? Share it!