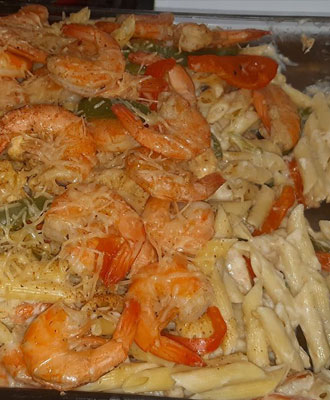 1/3 cup canola oil
1 head garlic, minced (yes–an entire head!)
3 TBSP red wine
3 TBSP soy sauce
3 TBSP Worcestershire sauce
1 14.5-ounce can diced tomatoes
2 pinches dried basil
2 pinches dried oregano
1 tsp Cajun seasoning (optional)
1/3 cup jerk paste
½ red bell pepper, chopped
1 very petite zucchini, chopped
1 small broccoli floret broken up by hand
1 medium carrot, thinly sliced or mandolined
½ cup purple cabbage, chopped
2 stalks celery chopped
1 serving Incredible Jerk Tofu
2 handfuls pre-cooked pasta—use only penne or spirals
The top (green) third of a medium bunch of green onions, chopped
Pineapple pieces for topping, optional
Combine oil and garlic in food processor or blender. Puree well.
Heat a large frying pan on medium high heat. Add garlic oil mixture. Sauté until it begins to turn gold–but not brown, about 30-60 seconds. Add wine. Continue to cook for 20 more seconds.
Add soy sauce, Worcestershire sauce, tomato, basil, oregano, Cajun seasoning, and jerk paste. Stir frequently for about 8 minutes. Taste and add salt or jerk, if necessary—it should be very strongly flavored!
Add all the veggies EXCEPT the green onion. Reduce heat to medium and sauté another 5 minutes or so, until the veggies become a bit tender, stirring occasionally.
Add tofu, pasta, green onions, salt and pepper to taste (salt may not be necessary if your jerk paste already has some). Sauté 1 more minute stirring often.
Remove from heat and serve with pineapple on top, if using.