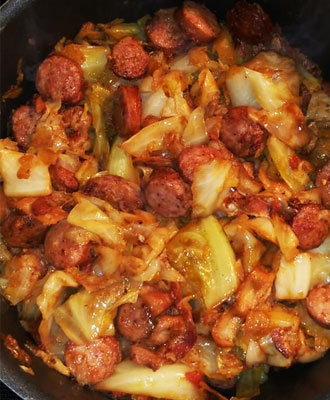 1 1/2 pounds andouille sausage, cut into 1/4-inch slices
1 pound lean ground beef
1 large yellow onion, chopped
4 fresh chili peppers, minced
3 stalks celery, minced
2 poblano peppers, seeded and chopped
4 teaspoons minced garlic
1 teaspoon Cajun seasoning blend
1 medium head cabbage, chopped
4-5 medium tomatoes, chopped
4 cups beef broth
1 1/2 cup long-grain white rice
Brown the sausage in a large Dutch oven over medium heat. Transfer the browned sausage to a bowl and set aside.
Add the ground beef, onions and chili peppers to the Dutch oven and cook, stirring occasionally, for about 3 minutes, then stir in the celery and poblano peppers and cook until the beef is evenly browned and the vegetables are starting to get tender (about 5 minutes).
Clear a space in the center of the Dutch oven and add the garlic and Cajun seasoning. Cook for about 45 seconds, then return the sausage to the Dutch oven.
Add the cabbage, tomatoes and beef broth. Stir to mix the ingredients together, and scrape the bottom of the Dutch oven with the edge of a spoon to loosen the fond from the bottom of the pan. Stir in the rice, bring to a boil, then cover the Dutch oven, turn heat to low and let simmer until the rice is cooked (about 30 minutes). Serve with garlic bread or other crusty bread.