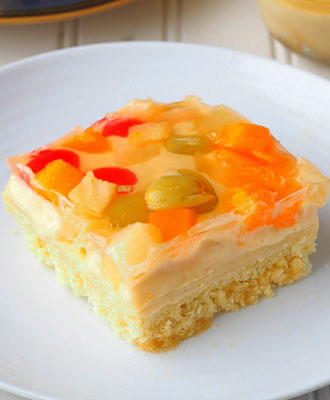 Quick and Easy Crema de Fruta
Makes about 24 servings
Allergy note: contains eggs, wheat and dairy
cake:
1 box white cake mix
1 cup milk
1 cup oil
4 large eggs
crema:
2 boxes Jello instant vanilla pudding mix
3 cups milk
2 cups whipping cream
fruta:
2 envelopes Knox unflavored gelatin (1/4 ounce each)
1/2 cup water
2 30-oz. cans fruit cocktail in heavy syrup (DO NOT drain the syrup)
cake:
Mix together cake mix, milk, oil and eggs. Pour into two rectangular aluminum pans and bake at 350 degrees F for 30 minutes or until a toothpick inserted in the center comes out clean. Set aside to cool.
crema:
Using an electric mixer, whisk together instant pudding mix, milk and whipping cream together until thickened. Pour over cake and spread evenly.
fruta:
Sprinkle the unflavored gelatin over the water. Let the gelatin absorb the water and expand. Microwave for 30 seconds to 1 minute until the gelatin melts. Mix into the fruit cocktail and pour over the crema.
Refrigerate for at least 2 hours before serving.