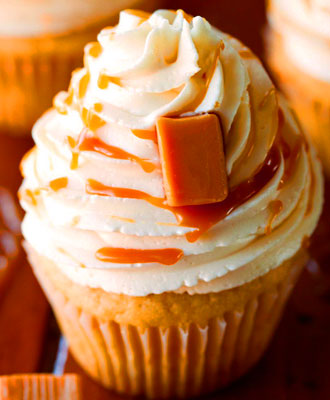 Egg-free Vanilla Cupcakes with Salted Caramel
Makes 24 cupcakes
Allergy note: contains dairy and wheat ingredients
egg-free vanilla cupcakes:
3 1/2 cups flour
4 tsp. baking powder
1/2 tsp. baking soda
1/2 tsp. salt
1 cup butter, softened to room temperature
1 3/4 cups granulated sugar
2 tsp. vanilla extract
2 tsp. corn syrup, honey or agave nectar
2 Tbs. vinegar or lemon juice
4 Tbs. orange juice
1 1/2 cups milk (lukewarm)
zest of one lemon (optional)
salted caramel filling and topping:
1 cup sugar
2 Tbs. water
1/2 tsp. lemon juice
1/2 cup whipping cream
2 Tbs. butter
1/8 tsp. sea salt
hybrid buttercream frosting:
1 cup butter, softened to room temperature
2 cups powdered sugar
2 tsp vanilla extract
1/2 cup warm milk
1/4 cup cold whipping cream
For the egg-free vanilla cupcakes:
Preheat oven to 325 degrees F. Prepare two muffin pans with paper cupcake liners.
Sift together flour, baking powder, baking soda and salt. Set aside.
In a medium mixing bowl, cream together butter and sugar till light and fluffy. Slowly add in vanilla extract and corn syrup. In a small mixing bowl, combine orange juice, vinegar and milk. Alternate adding the dry ingredients and wet ingredients into the butter/sugar mixture until well incorporated. Pour into prepared muffin pans (about 2/3 full).
Bake for 25 to 30 minutes or until a toothpick inserted in the center of a cupcake comes out dry. Let cool completely before decorating.
For the salted caramel:
In a saucepan, combine the sugar, water and lemon juice. Cook over medium heat until the sugar starts to caramelize and turn golden brown. Carefully pour in the whipping cream. The caramel will start to bubble a lot at first but it will eventually calm down into a simmer. Add in the butter and sea salt; stir until combined. Set aside to cool.
For the hybrid buttercream frosting:
Beat the butter, powdered sugar and vanilla extract at low speed until combined. Slowly add the warm milk. It will separate at first, but don't worry – give it a few minutes and it will start coming back together. Increase the speed a little to whip it up a bit. Slowly pour in the cold whipping cream. Whip for a few more minutes and it should start to look smooth. It may curdle or separate again when you pour in the whipping cream, but give it some time and it will smooth out again.
Cupcake assembly:
Scoop out the center of each cupcake. You can use a melon baller or a corer. Fill the center with salted caramel. Using a pastry bag with a star tip, pipe the frosting on top of the cupcake. Drizzle about a spoonful of salted caramel over the frosting.