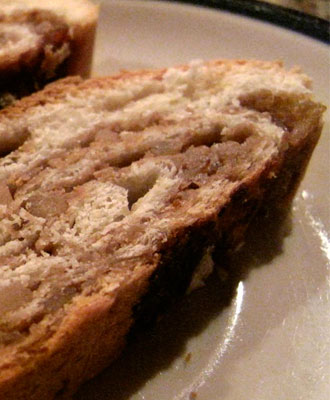 For Dough:
-6 cups all-purpose flour
-1 teaspoon salt
-1/2 pound unsalted butter (2 sticks), softened
-3 tablespoons granulated sugar
-3 large eggs, beaten
-8 ounces of sour cream
-1 package of dry yeast
-1/2 cup warm milk
For Filling:
-1 pound walnuts, ground
-3/4 cup milk
-1/3 cup granulated sugar
-1/3 cup honey
-2 egg yolks, beaten
-1 teaspoon vanilla
Begin by making the filling so it has time to cool before you add it to the dough.  In a medium sauce pan, mix egg yolks, sugar, honey, and milk and cook over low heat until thickened.
Ground the walnuts finely in a food processor.
Add walnuts and vanilla to the thickened mixture and mix until combined.  Let cool.
While filling is cooling, dissolve yeast in warmed milk (be careful not to heat the milk too hot so it does not kill the yeast).  Using an electric mixer, blend the yeast mixture, eggs, sugar, butter, and sour cream until well combined.
Add the flour in two parts and mix with a dough hook or knead until well combined.  The dough will be sticky.
Generously flour your counter and divide the dough into four parts.
Roll out each section into large rectangles about 1/4 of an inch.  Then spread a quarter of the cooled nut filling all along the rolled dough and then roll the dough along the long side of the rectangle. 
Create the remaining three rolls and place all four on two greased baking sheets.  Let rise for one hour or until the rolls have doubled in size.
Preheat oven to 350 degrees.  Brush with egg wash and bake for 30 to 40 minutes until golden brown.
Serve warm or at room temperature (I like the rolls at room temperature the best).