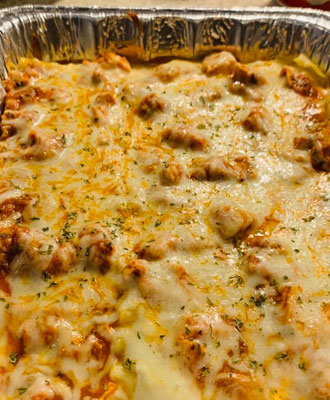 NGREDIENTS
150g spinach washed
9 sheets dried, no pre-cook lasagna
2 chicken breasts (about 110g each) thinly sliced
Sauce
60g butter
1 small onion
1 garlic clove crushed
60g plain flour
350ml chicken stock
300ml milk
110g cheese, grated
50g freshly grate Parmesan (reserve 4T for the topping)
salt, pepper and freshly grated nutmeg, to season
2T breadcrumbs
METHOD
Preheat oven to 200 degrees. Melt the butter in a medium pan and saute the onion for 5-6 mins until softening and just starting to turn golden. Add the garlic and cook for 1 minute then stir in the flour and cook another minute. Remove from heat and gradually (so it doesn't go lumpy) stir in the stock and milk. Cook over a medium heat, stirring until sauce thickens and comes to a simmer. Remove from heat, cool for a minute then stir in cheeses and season well.
Cook Spinach in a large pan until wilted. Cool, then squeeze out as much liquid as possible and roughly chop.
Put a thin layer of sauce in the bottom of your preferred lasagna dish and add a layer of lasagna sheets. Scatter over with spinach and chicken and then cover with sauce. Repeat process with remaining ingredients. Top with remaining sauce and sprinkle breadcrumbs and reserved Parmesan. Bake for 40-45 min until piping hot in the centre. Allow to stand for 15 mins before serving.