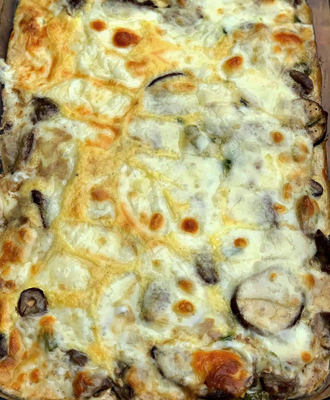 Ingradient
2.4 lbs lean ground beef (1.1 kg)  
(2 lbs (0.9 kg) would fine, too)
1 tbsp minced garlic (15 mL)
11/2 tsp salt (7 mL)
1 tsp Worcestershire sauce, OR (5 mL)  to taste
1 tsp steak seasoning (5 mL)
1 tsp black pepper (5 mL)
1 tbsp olive oil (15 mL)
1 lb sliced mushrooms (0.45 kg)
1/2 tsp salt (2 mL)
2 tbsp olive oil (30 mL)
2 bell peppers, chopped1 cup chopped onion (250 mL)
4 oz cream cheese (125 g)
3 eggs1/2 cup whipping cream (125 mL)
11/2 cups grated Mozzarella cheese, (375 mL)  OR enough Provolone cheese slices to cover
Directions
Preheat the oven to 350°F (180°C).
In large nonstick frying pan, break up ground beef and cook over medium high heat until beginning to brown.  Add garlic, 11/2tsp (7 mL) salt, Worcestershire sauce, steak seasoning and black pepper, stirring to combine.
In another nonstick frying pan, cook mushrooms in 1 tbsp olive oil (15 mL) until moisture has evaporated. Add 1/2tsp salt (2 mL) and stir fry a little longer.  Set aside. 
To ground beef add 2 tbsp (30 mL) olive oil, peppers and onions and cook on medium heat with a lid on the pan until the vegetables are softening.  Check to see if the meat is browning too much, and if it is, add a little water and continue cooking. Once the vegetables are soft, add the cream cheese broken up into bits and stir until melted. Stir in mushrooms. Turn out into a 9 x 13-inch baking dish.
In small bowl, whisk eggs and whipping cream together.  Pour over meat and sprinkle with Mozzarella cheese.  Bake 20 to 25 minutes or until the cheese has melted and the casserole is hot and bubbly.