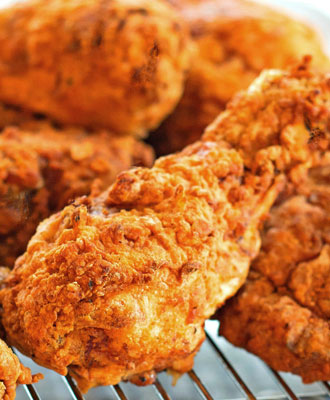 Marinade:
-2 cups of buttermilk
-2 tbsp Dijon mustard
-1 tsp onion powder
-1 tsp garlic powder
-1 tsp salt
-1/2 tsp chili powder
-1/2 tsp black pepper
Batter:
-2 cups of all purpose flour
-2 tsp baking powder
-1 tbsp salt
-2 tsp onion powder
-2 tsp garlic powder
-2 tsp chili powder
-1 tsp black pepper
-1/2 tsp dried oregano
-2 lbs of chicken (whole chicken cut into pieces, or wings and drumettes)
In a large resealable plastic bag or a large glass bowl, mix all marinade ingredients and add chicken. Coat chicken evenly in marinade and refrigerate for at least 24 hrs, or up to 48 hrs. Toss chicken occasionally to ensure all pieces are well coated.
Preheat a deep fryer heated to 350F. If you do not have a deep fryer, use a large pot and add about 1 1/2 inch depth of vegetable oil. Make sure the top of the pot has at least 8″ of space from the oil surface. The chicken will bubble at lot and can be dangerous if you use too shallow of a pot.
In dish, whisk the dry batter ingredients. In batches, add the chicken pieces and coat well. Wait a few minutes and coat some more. This makes for an extra crunchy crust.
Place the chicken pieces on a wire rack with a baking sheet beneath and repeat with the remaining chicken. If you do not have a wire rack, just shake off the excess flour.
Fry the chicken in batches, turning over halfway through cooking. For large chicken pieces, cook for about 12-15 min. For chicken wings, cook for about 8-10 min. The chicken is done when the internal temperature is 165F or the juices run clear.
Serve warm.