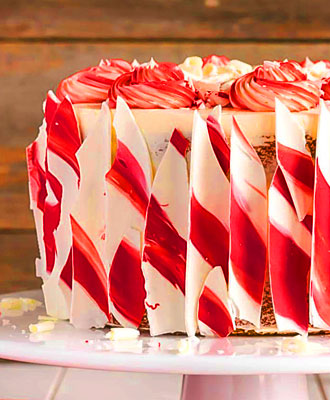 Ingredients:
One box of super moist white cake mix
Water, vegetable oil and egg whites that are called for on the box
1/2 tsp red food coloring
1/2 tsp peppermint extract
Frosting:
1 c. powdered sugar
1 tbls. milk or water
1/2 tsp vanilla, if desired
Decoration:
Crushed candy canes or peppermints
Directions:
– Preheat oven to 325 degrees and generously grease your bundt pan.
– Mix cake according to directions on the box.
– Pour about 2 cups of the cake mix into your bundt pan. In a small bowl mix about 3/4 cup of the batter and the red food coloring and peppermint extract.
– Carefully pour red batter over white batter in the pan.
– Pour remaining white batter over the red batter.
– Bake according to directions on the box or until toothpick comes out clean.
– Invert onto serving platter and let it cool completely.
– In a small bowl mix the frosting ingredients together and with a spoon or fork, drizzle over cake.
– Top with crushed candy canes and serve!