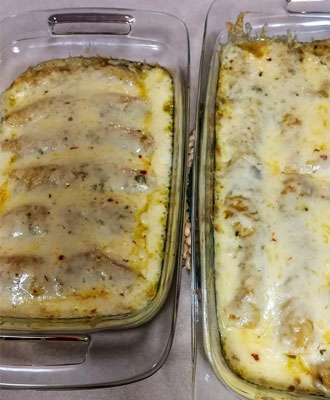 Ingredients
3 large or 4 medium chicken breasts
1 pkg of at least 10 big tortillas (Normal Quesadilla size not jumbo not small)
1 can of green Chile enchilada sauce (Hatch was really good from Smith's)
1 small can of diced green chile's
3/4 cup of sour cream
1/2 teaspoon of cumin powdersmall handful of chopped fresh cilantro
1 pound of Pepper Jack Cheese shredded
Directions
Cook and shred your chicken.
Season them and boil until just cooked through.
Shred with two forks and let cool.
Put shredded chicken in large bowl and add 1/2 cup of enchiladas sauce (save the rest), small handful of cheese, 1/2 can of green chile's, 3/4 cup of sour cream, 1/2 tsp of cumin, a handful of chopped cilantro and salt and pepper to taste.
Roll the chicken mixture into the tortillas and place in a greased casserole dish. Pour the remaining enchilada sauce on top and spread evenly.
Bake for 30 minutes at 350 degrees and add the rest of the cheese on top for the last 5 minutes.
I served with a side a sour cream.