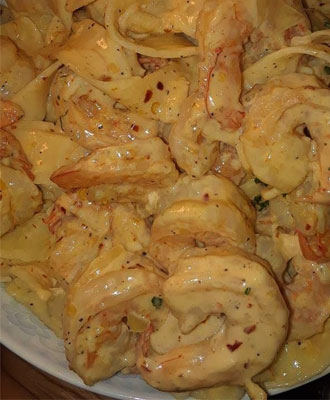 6 oz. angel hair pasta
3 cups broccoli florets, in bite sized pieces
3 Tbsp. butter, divided
2 Tbsp. flour
2 cups milk
1/2 tsp. dried parsley
2 Tbsp. minced garlic, divided
1/3 cup grated Parmesan cheese
1/2 tsp. salt
1/4 tsp. Worcestershire sauce
1/2 tsp. dried red pepper flakes
1 medium zucchini, cut in 1/2″ slices crosswise, then each slice halved
1/2 pound cooked medium shrimp
Bring a large pot of water to a boil and add the pasta. Cook for 6 minutes, then add the broccoli florets and cook for an additional 3 minutes. Drain and set aside.
In a medium saucepan, melt 2 Tbsp. butter. Add the flour and stir and cook for one minute. Gradually add the milk; bring to a simmer, stirring constantly, until slightly thickened. Remove from heat and add the parsley, 1 Tbsp. minced garlic, salt, Parmesan and Worcestershire sauce. Set aside.
In a large skillet, melt remaining 1 Tbsp. butter over medium high heat. Add remaining 1 Tbsp. minced garlic and red pepper flakes; saute until fragrant, about 1 minute. Add the zucchini and stir fry for about 3 minutes. Add the shrimp and cook and stir 2 more minutes or until shrimp are heated through and zucchini is tender.
Rinse the pasta and broccoli if necessary, then add to the shrimp and zucchini mixture in the skillet. Pour the cream sauce over and stir well to combine.