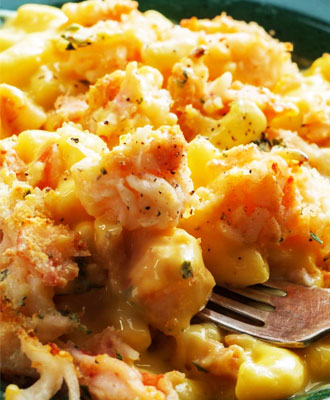 meat from 2 cooked lobsters
2 cups pasta (I used cellantani but you could use elbows with ridges) – cooked to manufacturer's directions
cooking spray
For the sauce:
2 tbsp. butter
5 oz. marscapone cheese
5 oz. mild cheddar cheese (a little over half a bag)
1/2 cup + 2 tbsp. heavy cream (plus extra for drizzling over casserole before baking)
ground black pepper to taste
salt to taste
Cook your pasta according to box directions. Drain and set aside.
Using that same pot and over medium to medium low heat melt the butter.
Add the cream and stir. Cook the cream until it is getting just a tiny bubble around the edges. Don't curdle the cream – keep an eye on the flame.
Next add in the marscapone and whisk in. Add in the cheddar cheese and whisk until melted. Turn off the heat and remove the pan from the burner.
Then add in the cooked pasta and stir. Then gently fold in the lobster.
Spray your gratins or oven proof casserole dish with cooking spray.
Divide the mixture evenly between the two dishes or pour into the one casserole dish. Drizzle some extra cream over the macaroni to keep this creamy. About 2 tbsp. per dish or a tad over that.
Top with some cracked black pepper and with some crushed Ritz® crackers.
Bake in a toaster oven or conventional oven at 350° for about 11-15 minutes uncovered.