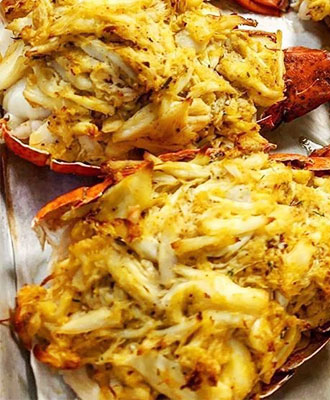 Crab Imperial
2 Tbsp. butter
2 Tbsp. flour
½ cup milk
2 Tbsp. minced onion
1 ½ tsp. Worcestershire sauce
½ cup mayonnaise
1 Tbsp. fresh lemon juice (½ lemon)
½ tsp. salt
¼ tsp. ground white pepper
3 Tbsp. butter
1 lb. pasteurized lump crabmeat
paprika (for sprinkling)
In medium size pan, melt butter and mix in flour. Slowly add milk, stirring constantly to keep mixture free from lumps. Cook, stirring over medium heat until mixture comes to boil and thickens. Mix in onion, Worcestershire sauce. Set aside and cool. Fold in mayonnaise, lemon juice, salt, and pepper.
In another pan, melt butter. Add crabmeat and toss. Combine with cooked sauce mixture. Pour into 4 individual ramekins prepared with cooking spray. Sprinkle tops with paprika. Bake at 450° for 15 minutes.
You may make these hours in advance and chill in refrigerator until ready to bake. I like to use pasteurized crab meat because you do not need to pick any cartilage out and it has a much longer expiration date. Makes 4 servings. Enjoy!
Crab Imperial Stuffed Lobster Tails
4 – 8 lobster tails, about 10 oz. each
garlic powder
paprika
1 stick butter
white wine
Raclette cheese, 5-8 oz., swiss variety, optional
For testing purposes I started with 10 oz. frozen tails. If you have access to fresh go for it. About 24 – 36 hours in advance place tails on a platter in refrigerator to thaw. You may prep this meal several hours in advance (I love that). Remove lobster from wrapping and using sharp kitchen scissors cut through the shell on the back right down to the tail fins. Be careful shell can be sharp. Then pull apart shell and detach meat from shell and place on top of shell tucking shell underneath and closing shut. The lobster should balance on top of shell, make sure you spread the tail fins out for stability. Then you will need to butterfly the lobster meat. You do this by cutting into the meat to spread it open but not cutting through all of the way.
Preheat oven to 450 degrees, unless you are preparing in advance for later. Place tails in a 9 x 13 inch pyrex dish, spread out the tails evenly to stabilize it. Pour in enough white wine until it is about ½ inch full. Lighty sprinkle tops of lobster meat with garlic powder. Add little bits of butter pieces, about a ½ tsp. per tail. Add 1/3 cup of Crab Imperial on top, centering it on the crab meat and making it an oblong mound. Lighty sprinkle the top of the Imperial with garlic powder and paprika. Place in oven to bake for 25 minutes, remove lobsters from oven and place about 1 oz of Raclette cheese on top of crab imperial. The Raclette is optional, but I highly recommend it. Finish baking for the remaining 5 minutes.
There is enough Crab Imperial to make 8 tails. Or you can make 4 tails tonight and you will have enough Crab Imperial left over for 2 servings of Crab imperial the next evening. I place about 2/3 cup of Crab Imperial in a ramekin (7 oz. capacity) to bake.