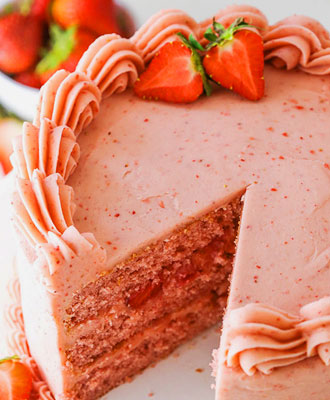 Fresh Strawberry Cake
Cake:
2 1/4 c. cake flour
1/4 tsp. salt
2 1/2 tsp. baking powder
1/2 c. unsalted butter (1 stick), softened
1 1/2 c. sugar
2 eggs
1 tsp. vanilla extract
1 c. fresh (or frozen!) strawberries, thawed and mashed
Preheat the oven to 350 degrees.
Sift together the flour, salt and baking powder.
In another bowl, cream together the butter and eggs. Then add in the vanilla. Blend. Then blend in the eggs, one at a time until fully incorporated.
Add the flour mixture to the creamed mixture in batches, alternating with the mashed strawberries.
Beat it all for 2 minutes.
Pour the batter into two greased and floured 8- or 9-inch round cake pans. (you could use a 9×13, but the bake time will vary)
Bake for 25-30 minutes (I used 9-inch pans, and 25 minutes was just perfect)
Turn out the cakes onto cooling racks.
Start making the glaze.
Strawberry Glaze
1 c. mashed strawberries
1 1/2 c. powdered sugar
2 tbl. melted unsalted butter
1/2 tsp. vanilla extract.
Mix together all of the ingredients. (Note: If you used frozen berries, and they are still cold, warm them up a bit before adding the butter or it will just firm up up again.
Put the first layer of your cake (still warm) on your serving platter. Poke holes in it with a toothpick or skewer. Drizzle some glaze on top and using a spatula, move it around to make sure the cake sucks it all up into those holes.
Put the top layer over the bottom, and do the same thing. You can save the extra glaze to serve with individual pieces, or wait until the glaze has sucked up into the top layer and add more- repeating until it's all gone.
Wait until cake has cooled completely to eat. Enjoy!