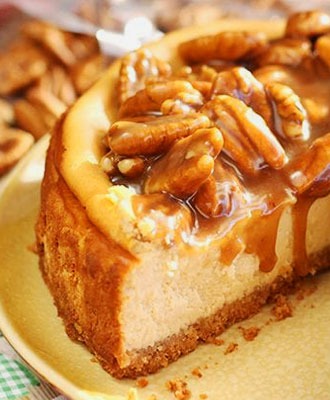 Magnolia Bakery Caramel Sauce:
1 C. cold water
3 C. sugar
2 C. heavy cream, room temperature
In a saucepan, combine water and sugar over med-low heart, stirring occasionally until sugar dissolves… about 3 minutes. Increase heat to high and boil without stirring for 15 minutes, or until the sauce becomes a dark amber color. To prevent sugar crystals from sticking to the sides of the pan, use a pastry brush dipped in cold water to brush down any sugar crystals. Swirl the pan occasionally for even browning. Once the syrup turns deep amber, immediately remove from heat. Slowly and carefully add in the cream (the mixture will bubble vigorously), whisking constantly until all of the cream is added.Return the pan to med-low heat and stir until the sauce is smooth, about 1 minute. Remove from the heat and allow to come to room temp before refrigerating. The caramel can be stored for up to one month in the refrigerator.
Magnolia Bakery Caramel Pecan Pie:
Crust:1/2 C. unsalted butter, melted
1 1/4 C. vanilla wafer crumbs
1/2 C. finely chopped pecans
Filling:
4 8-oz packages cream cheese, softened
1 1/4 C. sugar
5 large eggs, room temp.
2 T. heavy cream
1 T. vanilla extract
Topping:
1 C. cold caramel sauce (recipe above)
1 C. chopped toasted pecans (15 minutes on a cookie sheet at 325*)
Preheat the oven to 325*. To make the crust: In a small bowl, combine butter and vanilla wafer crumbs and pecans. Press into the bottom of a buttered 10-inch springform pan. Bake for 10 minutes. Remove from oven and cool on a rack.To make the filling: In a large bowl, on the low speed of an electric mixer, beat the cream cheese until very smooth. Gradually add in the sugar. Add the eggs one at a time. To ensure that the batter has no lumps and that no ingredients are stuck to the bottom of the bowl, stop the mixer several times and scrape down the sides of the bowl with a rubber spatula. Stir in the heavy cream and vanilla.Pour the batter in to the prepared pan and set the pan on a baking sheet. Bake until edges are set and center moves only slightly when the pan is shaken, about 1 hour. At the end of the baking time, turn off the heat, and using a wooden spoon to keep the oven door slightly ajar, cool cake in the oven for 1 hour before removing. Cover and refrigerate at least 12 hours. Spoon cold caramel evenly over the top of the cake. Sprinkle with pecans. Return cake to refrigerator. Remove cake from refrigerator at least 15-30 minutes before cutting and serving.