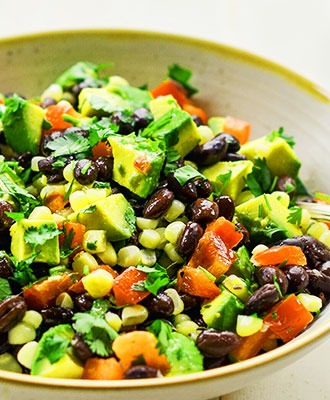 Ingredients:
Dressing:
6 tablespoons extra-virgin olive oil
2 tablespoons fresh lime juice
1 tablespoon red wine vinegar
1 jalapeno chile, stemmed, seeded, and minced (leave a few seeds in if you want it a little spicy)
1 clove garlic, minced
1/2 teaspoon ground cumin
1/2 teaspoon table salt
1/4 teaspoon ground black pepper
Salad:
8 ears fresh corn , husks and silks removed
1 pint grape tomatoes or cherry tomatoes, halved
1 (15.5-ounce) can black beans, rinsed
6 scallions, sliced thin
1 avocado, diced
2 tablespoons minced fresh cilantro
Table salt and ground black pepper
Directions:
1. For the dressing: Shake all of the dressing ingredients together in a jar with a tight­fitting lid.
2. Grill corn over direct heat until a few black marks appear (about 4-5 minutes), rotating occasionally. (or: cook the corn in 6 quarts boiling water until tender, 5 to 7 minutes. Drain and rinse under cold water.) Cut the kernels from each cob into a large mixing bowl using a paring knife. Add the tomatoes, beans, scallions, cilantro, avocado, dressing and toss. Season with salt and pepper to taste and serve.