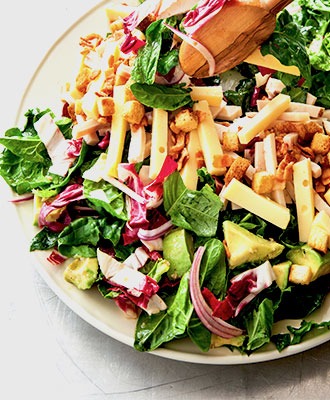 Garlic Croutons:
1 large clove garlic , minced to paste or pressed through garlic press (about 1 ¼ teaspoons)
1/8 teaspoon table salt
1 1/2 tablespoons extra-virgin olive oil
6 slices white sandwich bread (6 ounces), cut into ½-inch cubes (1 ½ cups)
Vinaigrette:
3 tablespoons extra-virgin olive oil
1 1/2 tablespoons sherry vinegar
1/2  teaspoon minced garlic (1 small garlic clove)
1 teaspoons Dijon mustard
pinch  table salt
pinch ground black pepper
Salad:
1 bag spinach salad blend1/4 cup fresh basil leaves , torn into bite-sized pieces
1/4 medium red onion , sliced very thin
1 cup grape tomatoes, halved1 medium avocado, halved, pitted, and cut into 1/2-inch cubes1 chicken breast, cooked and sliced into thin strips
4 ounces Gouda cheese (regular or smoked), sliced ¼ inch thick and cut into 2-inch-long matchsticks4 slices thick-cut bacon (or turkey bacon), cut into 1/4-inch strips, fried in medium skillet over medium heat until crisp, and drained on paper towels
Instructions:
1. For the croutons: Adjust oven rack to middle position and heat oven to 350 degrees. Combine garlic, salt, and oil in small bowl; let stand 20 minutes, then pour through fine-mesh strainer into medium bowl. Add bread cubes and toss to coat. Spread bread cubes in even layer on rimmed baking sheet and bake, stirring occasionally, until golden, about 15 minutes. Cool on baking sheet to room temperature.
2. For the vinaigrette: Whisk ingredients in medium bowl until combined.
3. For the salad: Combine salad mix, basil, and onions in large serving bowl. Add dressing and toss to combine. Season to taste with salt and pepper.  Arrange chicken and cheese over center of greens; sprinkle with bacon, avocado, and croutons and serve immediately.