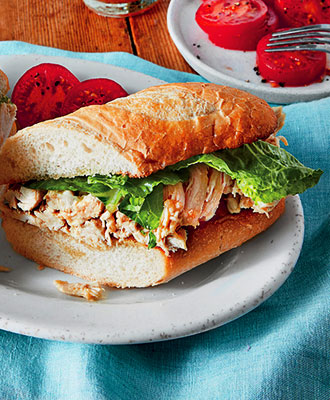 Ingradient
2 boneless skinless chicken breasts, pounded thin
1 egg
1/2 cup Italian breadcrumbs
1/4 teaspoon salt
4 slices bacon
2 rolls
2 tablespoons butter, softened
1/4 teaspoon garlic powder
1/4 teaspoon Italian seasoning
2 tablespoons parmesan cheese
1 cup romaine lettuce
Caesar dressing
2 slices provolone cheese
Direction
1. Beat the egg in a small bowl. Combine breadcrumbs and salt. Dip each chicken breast in the egg, and then in the breadcrumb mixture. Heat a thin layer of oil in a large skillet (enough to coat the bottom) over medium-high heat. Cook chicken until crispy and cooked through, about 3 to 5 minutes per side (depending on thickness).
2. While the chicken is cooking, cook the bacon until crisp. Drain on paper towels and set aside.
3. In a small bowl, combine the butter, garlic powder, and Italian seasoning. Spread generously on each roll half. Broil buttered-side up or cook in a skillet buttered-side down until the rolls are browned.
4. Toss together the romaine lettuce, the parmesan cheese, and Caesar salad dressing to taste.
5. Place a piece of cooked chicken on the bottom half of each roll. Top with a slice of provolone cheese, two slices of bacon, and a pile of the salad mix.