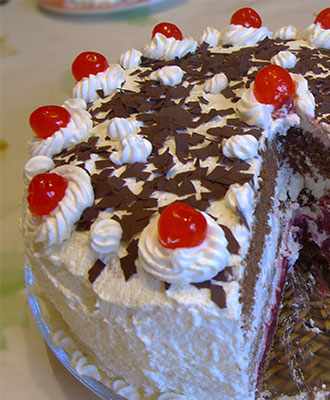 Ingredients: (yield 6″ cake 5 cupcakes)
For Chocolate Sponge Cake
5 small eggs
100g caster sugar
2 tbsp glucose
1g salt
32g oil
21g cocoa powder
106g plain flour
1g baking soda
21g milk
Method:
1. Put the pot on the fire, pour in the oil immediately to heat up and off the fire when the oil start to warm.
2. Add in the cocoa powder and stir well to dissolve the cocoa powder with oil and set aside.
3. Mix eggs, sugar, salt in the mixing bowl and whisk in high speed till thick and creamy, increase the volume unitl the color turn pale.
4. Add in glucose and whisk in medium speed until ribbon stage.
5. Mix in the sifted flour and baking soda, whisk in low speed for 3 circles to let the flour mix into the egg mixture. Then turn to medium speed and whisk for about 20 circles (about 20 seconds) to mix well.
6. Fold 1/3 to 1/2 of the batter into cocoa mixture and mix well. Pour the mixture back to the remaining batter, add in milk to mix well.
7. Pour the batter in the cake tin till 60-70% full.
8. Bang the cake tin on the table lightly to reduce some air.
9. Bake at lower heat 160 degree upper heat 180 degree for 35 mins.
10. Once done, remove from oven and turn the cake tin upside down on wire rack for it to cool down.
11. When the cake is cool, press round the top side of the cake and push up the bottom plate to remove the cake.
12. Press round the bottom of the cake to remove the cake from the bottom plate.
For Filling and Frosting :
260g whipping cream
1 can dark pitted cherries
60g shaved chocolate
1. Whip the whipping cream till stiff.
To Assemble :
1. Slice the cooled cake into 3 layers.
2. Place one layer on the turntable/cake board and brush with some cherry syrup.
3. Spread whipped cream and scatter pitted cherries over it.
4. Place the second layer and spread the whipped cream and scatter the pitted cherries.
5. Set the third layer of sponge on top of it and spread top and sides of cake with remaining cream.
6. With fingers, gently press chocolate shavings into cream on sides of cake.
7. Decorate with whipped cream rosettes and garnish the pitted cherries (drain the cherries till dry with kitchen tower).
8. Finally sprinkle some chocolate shavings on the top and chill for 2-3 hours before serving.