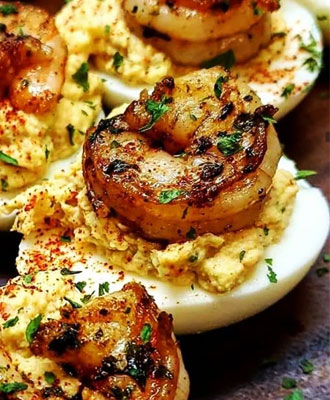 Ingredients:
12 Eggs1 tbsp White Vinegar
1/3 cup Mayonnaise
2 tbsp Dijon Mustard
2 tbsp Sweet Pickle Relish
Salt & PepperPaprika to garnish
Directions:
Place eggs in a medium to large size sauce pan. Add enough cold water to cover the eggs by 1″.
Place the pan over high heat & add 1 tbsp of white vinegar to the water as it is coming to a boil. Once the water starts to boil, cover & turn the heat off. Let the eggs sit, covered in the hot pan for 15-20 minutes. Then drain & rinse the eggs with cold water.
When the eggs are cool enough to touch, peel them & slice in half. Add the cooked yolks to a large bowl & the whites to a serving platter.
Mash up the egg yolks, trying to get rid of all large clumps.
Add the mayo, mustard & relish to the yolks. And by all means, just eye ball it & adjust to your taste! In my house we put more than 2 tbsp of relish!!
Taste & adjust seasoning, add salt & pepper if needed.
Fill the egg whites & dust with paprika. Serve immediately or chill to let the filling set.
READ ALSO: Grilled Chicken Wings