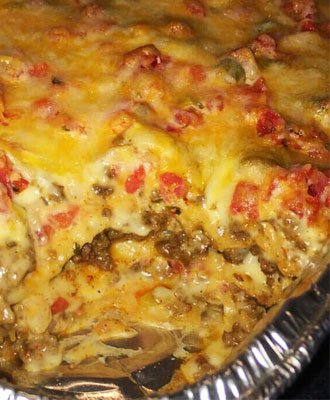 2 pounds ground beef
2 envelopes of your favorite taco seasoning
2 cans (14.5 oz each) diced tomatoes with chili peppers
1 tsp cumin
2 cans (27 ounces each) enchilada sauce
2 packages (16 – 20 count) corn tortillas
3 cans (16 ounce each) refried beans
2 cans (4 ounces each) diced green chilis (Ortega's fire roasted are great,) drained
2 pounds shredded Mexican-style cheese (cheddar and Monterey Jack blend)1 pound queso panela (Mexican basket cheese,) crumbled
½ cup sliced black olives
Preheat the oven to 350 F.
Brown beef in a skillet and pour off the fat. Stir in the taco seasoning, the cumin, and the two cans of drained tomatoes. Stir well over low heat until hot and well-blended. Set aside.
Into the bottom of a lasagna pan, pour in enough enchilada sauce to just cover the bottom. Arrange a layer of corn tortillas on the sauce. Spread the tortillas with the refried beans. Use all three cans and make it a good thick layer. Dot the beans with a can of diced green chilis and pour on just enough enchilada sauce to moisten it up. On top of this, arrange another layer of tortillas. Spread the prepared beef in a layer over the tortillas, and sprinkle this layer lightly with shredded cheese. Add some more enchilada sauce and then another layer of tortillas.
Pour on more enchilada sauce; this time, be generous and allow the sauce to run down inside the layers you've built. There should be a layer of sauce atop the last tortilla layer.
Generously cover this top layer with crumbled queso panela, then add the second can of drained diced green chilis. Put on a generous layer of shredded cheese and sprinkle the top with the sliced black olives. Bake for about an hour at 350 F. Cut like lasagna; serve with sour cream and, if desired, shredded lettuce.