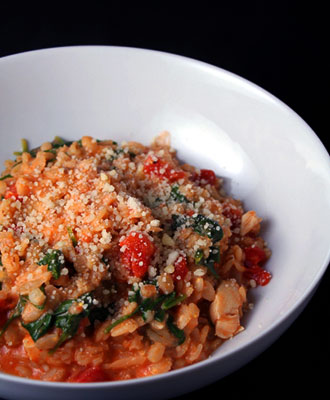 Ingradient
2 tablespoons olive oil
1 large onion, chopped
2 cups quick cooking barley
28 ounce can diced tomatoes
1 cup dry white wine or dry vermouth
2 1/2 cups water
1 large or 2 medium chicken breasts, raw or cooked, diced
8 cups baby spinach
1/2 cup freshly grated parmesan cheese
Direction
1-coat the bottom of large saucepan or dutchoven with olive oil and place it over medium heat. add the onion, season with salt and pepper, and saute until the onion softens, about 7 minutes.
2-add the barley, tomatoes, wine or vermouth, and water and bring to a boil. if using raw chicken, add it now. reduce heat to low and simmer until the barley is tender, about 15 minutes. check the package directions of your particular barley for suggested simmering time. if using cooked chicken, add it now.
3-add the spinach and parmesan cheese. cook until the spinach wilts and the cheese is melted. serve with more parmesan sprinkled on top.