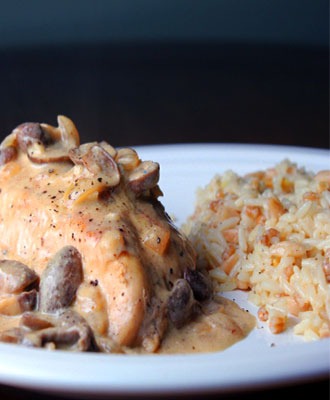 Ingradient
1 tablespoon unsalted butter
1 tablespoon olive oil
2 pounds boneless skinless chicken breasts
1 pound cremini mushrooms, sliced
1 medium onion, finely chopped
1/4 cup white wine
1 tablespoon all purpose flour
1 clove garlic, minced
1 1/2 cups chicken broth
1/3 cup sour cream
1 egg yolk
1/2 teaspoon ground nutmeg
2 teaspoons lemon juice
Direction
1-heat a large skillet over medium high heat and add the butter and olive oil.
2-pat chicken dry with paper towels and season with salt and pepper. when the skillet is hot, cook the chicken until brown, about 4 minutes per side. place chicken on a plate and set aside. keep the skillet on medium high heat.
3-add mushrooms, onion, and wine to the skillet. cook until most of the liquid has evaporated and the mushrooms are browned, about 10 minutes.
4-add flour and garlic and stir constantly for one minute.
5-add broth and bring mixture to a simmer. scrap the bottom of the pan to loosen any browned bits.
6-add the chicken back to the pan, reduce heat to medium low, cover, and cook until the chicken reads 160F, about 10 minutes.
7-transfer the chicken to a clean plate and cover to keep warm.
8-whisk sour cream and egg yolk together in a bowl. slowly stir 1/2 cup of the sauce into the sour cream mixture while whisking constantly. then add the sour cream mixture into the sauce in the pan while whisking constantly. (if you the cream mixture is added all at once, the eggs will scramble.)
9-stir in nutmeg and lemon juice and return to a simmer. season with salt and pepper. serve over the chicken.